Buffalo butter is a type of butter made from the milk of the Asian Water Buffalo. It is a traditional butter in India, and it made its way from luxury specialty food stores to mainstream grocery stores in recent years.
It is generally sold as a stand-alone product, but it can also be used in place of other types of butter in various recipes.
What Is Buffalo Butter Made Of?
In essence, the process is identical to traditional butter making, only the milk comes from a buffalo instead of a cow.
Buffalo butter is made by separating the cream from buffalo milk, and then churning the cream into a solid butter. The butter may then be pasteurized, especially if it is imported. But often it is simply washed, shaped and sold as is.
Just like regular butter products, it may come in various forms, such as grass fed or salted. They can contain various additives, depending on the specific product.
Buffalo Butter Nutrition – Is It Healthy?
Buffalo butter is a relatively nutrient-dense ingredient, similar to regular butter. In terms of calories, it contains 110 calories per tablespoon (14 grams), which is only slightly higher than the average amount for traditional butter.
It also has a slightly lower water content, and is richer in both vitamin A and vitamin D, calcium and protein.
The main difference lies in its cholesterol content: Buffalo butter tends to have a lower cholesterol content than regular butter, containing roughly half the amount of cholesterol as cow butter.
This makes it a good choice for those seeking to increase their daily cholesterol intake, but want to enjoy a butter alternative that tastes very similar to regular butter.
Buffalo Butter vs Cow Butter – How Does It Compare?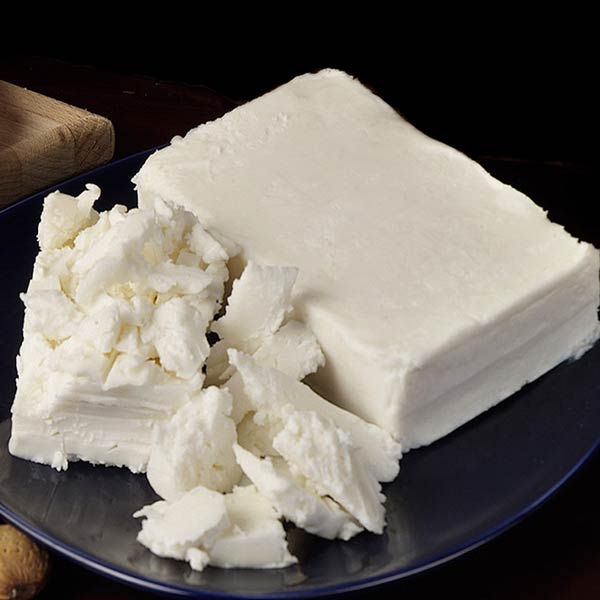 At first glance, buffalo butter has a pale, white color when compared to cow butter. The fact that it has a slightly higher fat content and lower water content means its texture is more dense.
Because it is made from buffalo milk instead of cow milk, buffalo butter will have distinct hints of buffalo milk flavor. The differences are subtle, but you will notice it if it is used as a spread. You will also find these flavors in mozzarella cheese, which is also based on buffalo milk.
The lower cholesterol content means it is great for individuals who are aiming for a lower cholesterol intake for health reasons. However, buffalo butter does tend to come with a higher price tag.
What Are Some Substitutes For Buffalo Butter?
Since buffalo butter tastes very similar to traditional butter, you may substitute it with more common butter products such as ghee or regular butter, depending on your recipe or usage.
For those who are concerned with cholesterol, ghee can serve as a good cooking substitute for buffalo butter. Studies show that it raises unhealthy cholesterol levels significantly less than traditional butter does, while providing a boost for healthy cholesterol levels.
What's more, ghee can also be made from buffalo milk, which gives it a similar taste profile.
However, if you're looking for a spread, traditional butter is the ideal substitute for buffalo butter.
What Does Buffalo Butter Taste Like?
Just like mozzarella, buffalo butter is made from buffalo milk. For this reason, you will taste the same nuances of buffalo milk in both products.
It's worth noting that despite this, buffalo butter retains an overall taste that's similar to cow butter. As a cooking fat, the difference will be lost while cooking. If you wish to taste the hints of buffalo milk, it is recommended that you use it as a spread.
Buffalo butter also has a somewhat different texture than regular butter. Buffalo butter typically has a higher fat content and lower water content than normal butter. It tends to be harder at room temperature, giving it a denser texture.
Buffalo Butter Benefits – Why Would You Use It?
The main advantage buffalo butter has over regular butter is its lower cholesterol content. But besides this, it is quite similar in terms of taste and applications.
Users have reported that it does have some hints of buffalo milk in its taste, which might be good for certain recipes. That being said, it is worth mentioning that buffalo butter tends to be more expensive than its traditional counterpart.
Where Can You Find Buffalo Butter?
When looking for buffalo butter in stores, you may run into some terminology confusion. Various products might be sold under the name "buffalo butter", though in reality it could simply be mislabeled buffalo milk ghee.
Though buffalo butter has been slowly making its way into mainstream grocery stores, it is still a relative rarity in most countries. You may have better luck searching for it in high-end or specialty shops.
Alternatively, you could simply order it online and get exactly what you want!
See Also
Just a few of the articles we've published for you are listed here. However, you might have heard that vinegar isn't always suitable for your plumbing pipes. The short answer is that vinegar, when used sparingly as instructed in many online recipes, won't damage your pipes. Regardless of the material—pex, pvc, copper, etc.—your pipes are composed of. Your water pipes won't get damaged by vinegar. Is PVC corroded by vinegar? Hair and food are two common causes of clogged drains, and the more serious the issue, the stronger the chemical you'll require. However, harsh chemicals can be bad for your…